Video Tutorials
Click on the Videos below for tutorial lessons on how to use various features in the ManageMore program.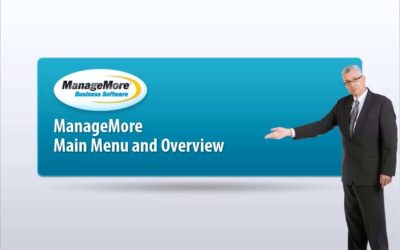 This lesson will review the main menu of ManageMore Business Software, and also provide an overview of the ManageMore program.
More Tutorials
Click on an article below for a step-by-step tutorial lesson about the ManageMore program.
In this lesson, we will discuss how you can automatically create purchase orders to replenish your stock, by using the Purchase Order Wizard screen in ManageMore Business Software. This powerful function can analyze your stock and your past sales, make projections for future sales, and create the Purchase Orders necessary to fill the stock to desired levels.
read more
This article describes how to use the Inventory Explorer window in ManageMore Business Software. The Inventory Explorer allows users to easily change the properties of selected supertrack inventory items, with a simple drag-and-drop. You can easily change the category, department, commission structure, sales promotion, and other attributes of many items at once.
read more
What are Automations? Automations are powerful marketing tools in ActiveCampaign, that are used to set rules for automatically delivering SMS and/or Email marketing content to your customers. For example, you can set an automation to send a "Thank You" email upon...
read more