Email SMS and Digital Marketing Software
The Internet offers all kinds of communication services, email and text (SMS) messaging are among the most popular. They're fast, easy, and much more convenient than sending a letter or making a phone call. Email and SMS communication have become the method of choice for digital marketing to prospects, collaborating with staff, and corresponding with customers, contacts and vendors. It is critical to take control of your digital communication before it takes control of you.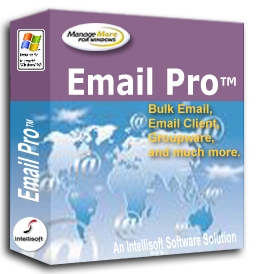 E-Mail Software Review
ManageMore's Email Pro™ is actually three distinct products in one convenient and powerful package. More than just an advanced messaging system — it's a powerful industrial-strength groupware and digital marketing tool with features to increase productivity, improve sales efforts, and enhance your organization's ability to effectively communicate with customers, contacts, vendors and employees.
ManageMore's Email Pro™ sets new standards for business software by providing a robust email tool to resolve a variety of business issues. Read on to find out why we believe Email Pro™ is the most unique product of its kind, and a "must have" for every company that wants to truly become an ebusiness.
E-Mail Client Software
You may be asking yourself: "How is Email Pro™ different from using products like Microsoft Outlook, Microsoft Mail, or Mozilla Thunderbird for my email correspondence?"
These products are referred to as email clients — and so is Email Pro™, but with a very unique twist. Email Pro is the only email client on the market today that is tightly woven around a powerful business accounting software. No other email client can make that claim. By integrating an email client into business software, many unnecessary double-entry steps between your business software and email client are eliminated. You will also discover that our email client software implementation was designed with businesses in mind.
All the email client features you would expect are integrated in one simple-to-use email client software. Support for all basic email functionality such as sending, receiving , replying, forwarding, carbon copy, and file attachments are included. With a similar look and feel to Microsoft's Outlook Express, your employees should be able to quickly adapt to this elegant interface. But different from Outlook Express, your business will have total control of the in's and out's of email. Read on to learn more about this powerhouse email client tool.
Communicate quickly and safely with the outside world. Benefit from Email Pro's ability to easily organize your email into one simple to use address book. While entering email information into ManageMore, Email Pro will take care of instantly updating your address book at all times. All emails are categorized into customers, contacts, vendors, employees, or personal email so that you can quickly find any recipient. This makes it simple to lookup and send email to anyone in the ManageMore database. You also get the added benefit of a secure, encrypted internal address book that is safe from dangerous computer viruses, which attempt to infect others by emailing recipients found on your computer.
E-Mail Templates
ManageMore includes handy email templates for fast response on routine inquiries and sales information. When it comes to business email, it is quite common for the same questions to be asked over and over again by customers. "How do I get to your location?"… "What services do you offer?"… "What does X product do?"… "What are your store policies on X?"… These and many other common customer inquiries can be setup with email templates ahead of time to allow for quick emailing on demand. You can also harness the power of email templates to help improve sales efforts as well. Using a variety of email templates that you create yourself, each salesperson in your department will be able communicate with potential clients quickly and competently. Customers will certainly be impressed with the immediate and adept response from each of your staff members.
Business Rules
With many other email clients, settings and message filtering are decentralized. Each user on a network makes their own decisions on what can be received, deleted, etc. This poses a large problem for businesses who are trying to lower the risk of computer virus infections coming from email file attachments. IT staff would have to constantly check all network workstations for the possibility of loopholes from badly set up email clients or employees who have modified their email client software. However, with Email Pro's centralized design, one can quickly provide rules that all personnel must follow. File attachments can be blocked or limited to only certain safe file types (pictures, PDF documents, etc.) and can also be automatically scanned for viruses with your own anti-virus product.
Shared Email Management
This unique feature resolves the problems associated with companies that create email accounts for departments inside their organization. It is very common today to see businesses directing customers to emails like sales@mybiz.com, service@mybiz.com, support@mybiz.com, etc. The problem with this technique is: Who actually gets the email when your company has many employees in those departments? The manual solution most companies employ is to forward all mail to one individual and let him/her decide who gets the next sales lead, complaint letter, support request, etc. But what happens when this individual goes to lunch, takes a personal day off, or is busy with other matters during the business workday? All departmental email of this type comes to a grinding halt. Nobody is there to quickly respond to these emails, and yet there may be plenty of employees sitting around who could have easily handled the email requests.
This problem is eliminated with Email Pro's innovative shared email account feature. One can simply associate a shared email account to also be part of an employee's email setup. The difference is that all other employees who also belong to this shared mailbox system will see the same messages. Email Pro makes it very easy to determine if someone has already responded to the message and even lets everyone in the department see the response. Imagine the benefit a manager receives by being able to subscribe to a shared email account and monitor how other employees are responding to customers needs. By allowing everyone in a department to collaborate on these special business email accounts, your customers will ultimately benefit from the immediate response that they deserve, while simultaneously relieving the workload of the individual who traditionally had to maintain the mailbox inquiries all by themselves.
Email Client Features
Sophisticated email client integrated into accounting system
Supports all basic email functionality such as sending, receiving , replying, forwarding, carbon copy, file attachments, and more
Allows creation of a mailbox for each employee within an organization
Allows employee to organize their own mailbox by creating their own folders for storing email
Allows multiple POP mail accounts to be defined for each employee
Unique centralized architecture handles mail distribution and internal email without the need to purchase expensive and complex mail server software (like MS Exchange Server)
Centralized business rules can be easily created so that message filtering, file attachment considerations and virus scanning policies can be enforced for the entire network
Allows you to utilize alias mail accounts provided by the ISP to reduce the need for purchasing and managing multiple email accounts
All incoming correspondence to one email account can be automatically re-distributed to the appropriate recipients within your organization without any manual forwarding of email
Integrated Address book is updated as emails are added or changed in the ManageMore database
Address book is automatically categorized by customer, contact, vendor, employee or personal
Address book is securely encrypted so that dangerous computer viruses cannot propagate malicious code to other users via email
Built-in auto-respondent mail feature (by employee or email address) for automatically sending a standard email message back to recipient as mail is received
Allows templates to be created for quicker responses to common customer inquiries
Integrated Spell Checker feature