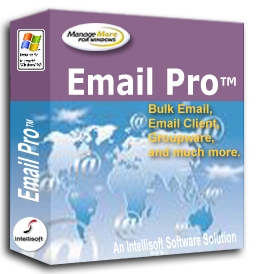 Groupware Software Review
Groupware is technology designed to facilitate the work of groups. This technology may be used to communicate, cooperate, coordinate, solve problems, compete, or negotiate. While traditional technologies like the telephone qualify as groupware, the term is ordinarily used to refer to a specific class of technologies relying on modern computer networks, such as email, newsgroups, videophones, or chat.
Email Pro™ facilitates unique features to help your employees communicate more efficiently among themselves. Whether you have one office or multiple branches, our groupware software features can benefit you by providing a better way for getting messages to personnel and ultimately to the customer.
Internal Email

ManageMore helps you communicate with others inside your organization quickly and easily. Email Pro delivers a complete internal email post office system that does not require the Internet or Microsoft Mail for sending/receiving messages between personnel. All email functions like Reply, Forward, Carbon Copy, etc. are possible, as well as unlimited file size attachments. You can even send an email to department(s) within your business, and all employees in those departments will receive the email. This unique delivery system results in no internet bandwidth usage and instantly delivers the message to anyone on your computer network using ManageMore. This feature is ideal for those SMEs that cannot afford to maintain an in-house mail server, but want the similar benefits associated with internal email. Just have your employees work in ManageMore as usual and they will be instantly notified when mail is received into their personal inbox. It's really no different than external mail except that it is blazing fast, simple-to-use, and requires no additional software or network setups.
Email Templates
With Email Pro, you can build handy email templates for fast response on routine inquiries and sales information. When it comes to business email, it is quite common for the same questions to be asked over and over again by customers. "How do I get to your location?"… "What services do you offer?"… "What does X product do?"… "What are your store policies on X?"… These and many other common customer inquiries can be setup with email templates ahead of time to allow for quick emailing on demand. You can also harness the power of email templates to help improve sales efforts as well. Using a variety of email templates that you create yourself, each salesperson in your department will be able communicate with potential clients quickly and competently. Customers will certainly be impressed with the immediate and adept response from each of your staff members.
Improved Efficiency
Don't print those documents, email them. Our groupware software makes it simple to send a variety of business documents directly to the customer via email. One can also choose to email documents to other personnel for reviewing problems. Save money by having customer invoices, quotes, purchase orders, inventory transfers, receipts, and built-in reports emailed instantly. Say good-bye to costly postage and old-fashioned faxing. It's easy to turn your business into a productive ebusiness when you have the right tools.
Improve customer relationships through powerful email history logs. As more and more businesses rely on email to communicate with their customers, businesses need a way to keep tabs on how employees have responded to their customers' needs. Traditionally, even the most sophisticated groupware software (like MS Outlook) cannot quickly and easily show you all email conversations that have taken place between customer and employee. Because most email software is decentralized, a customer's email may be found in several different employees' mailboxes on your network, and can be easily deleted without a trace that a customer has ever sent email to your company.
With Email Pro's centralized architecture, we are able to identify incoming email from a customer, and automatically create an email carbon copy to ManageMore's Customer Care system while delivering the message to the recipient at the same time. Customer responses by employees within your organization are also permanently recorded and listed in our Customer Care system chronologically. This innovative groupware software design truly unleashes the benefits of email within a business because you have total knowledge of how your customers are being taken care of and by whom. This is CRM at its finest.
Groupware Features
Sophisticated groupware software capabilities integrated into accounting system
Supports all basic email functionality such as sending, receiving , replying, forwarding, carbon copy, file attachments, and more
Allows invoices, quotes, purchase orders, inventory transfers, receipts and most reports to be emailed to recipient or other employees
Allows employee mailbox to easily redirect mail to an external email account so that an individual can still receive his/her email when sick, on vacation, or away from the office
Unique centralized architecture handles mail distribution and internal email without the need to purchase expensive and complex mail server software (like MS Exchange Server)
Powerful internal email feature allows sending of one mail message to entire department(s) for quickly getting a message to large groups of people within a division of your organization (e.g., company memorandums, meetings, birthday announcements, policy changes, company news, etc.)
Exclusive shared email account management for individuals or departments which need to respond to inquiries on special business email accounts (e.g., sales@mybiz.com, service@mybiz.com)
Historical email logs of all customer / employee correspondence is archived and easily viewed within the ManageMore Customer Care system