Auto Page Paging Software
The Auto Page™ product is one of the most exciting features included with the Paging Manager Software. This innovative software tool can help your business by improving the efficiency in your debt collections effort, enhancing your marketing endeavors, and easily verifying that your pager inventory is in working order.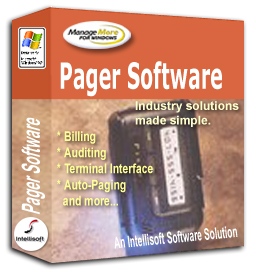 Auto Page Review
Automatically page your customers without ever picking up the phone. With the use of a phone line and an ordinary modem connected to your computer, Auto Page can automatically send a test page to any active pager in your database. Several areas in the Paging Manager module have been specifically created to utilize the capabilities of this remarkable add-on tool. With Auto Page in place, you can page any customer with any phone number you desire. The phone number appearing on your customer's pager could be your customer service department, sales department or even a voice mail with special announcements.
Improve your company financials and collection efforts. Auto Page™ can quickly improve your accounts receivable collections effort the very first time you use it. Traditionally, paging businesses use manual efforts in contacting delinquent accounts by making their employees pick up the phone to page customers and warn them of possible service interruption and late fees. However, the Auto Page product automates this task with special processes that can select a group of active pagers from your customers account based on many criteria including invoice aging balance, store location, customer type, area code, etc. Once the criteria has been specified, the Auto Page product can then be instructed to page all qualifying pager units to a specific phone number that has a voice recording explaining the delinquent account balance to the customer. By repeating this process every couple of days, one can dramatically improve the collection of payments at the same time helping customers avoid finance charges and possible suspension of service for non-payment.
Quick and Easy Marketing capabilities are at your disposal. The Auto Page product works great as a marketing tool. Your customers can be paged directly to your sales department or to pre-recorded messages that announce special offers, new services and upcoming sales events.
Communicate easily with your customer about their pager problems. With a simple press of a button, you can send one or many successive test pages to any customer's pager in order to determine if there is a problem with their unit or paging towers in that area. You can also send an individual page directly to one customer for times when you need to speak with a person directly.
There is no actual limit to what can be done with the Auto Page product , as it allows you to communicate any message to any customer at any time.
Auto Page Features
Automated paging system can send numeric or alphanumeric messages to customer pager for a wide variety of applications (payment reminders, collections, announcements, greetings, special offers, etc.)
Quick test page window for instantly sending numeric/alphanumeric message to one customer pager only
Selection criteria can be defined based on aging balance, customer type, store location, area code, to name a few, for mass paging
Unique account balance attachment feature will send a numeric page to customers with their own account balance showing on display
Auto Page can send over 200 pages an hour (over 1500 per hour with RCC Gateway Interface)
Successive test page feature automatically sends a series of numbers to a pager for determining if problems exist with a customer's unit
History trail of all pages sent to a customer
Time settings can be created to start/stop Auto Page process (useful for weekend paging and night time paging when offices are closed)
File export of Auto Page List for use with scripting languages
Automatic Test Page when re-activating pagers suspended from non-payment