New Features in ManageMore Version 9
Visit this page often for the latest enhancements to the ManageMore business software suite. We strongly recommend you read all revision notes up to the last software revision you are currently using.
Click Here
to read the latest revisions made to Version 9
About Version 9
For customers still on Version 8.0 or less, here is some important information you need to know if you plan on upgrading.
Windows XP End Of Life. Microsoft already announced the end of support for Windows XP was on April 8, 2014. This means that backward compatibility, security loopholes, and technical assistance will no longer be possible under this 14+ year old aging operating system. Most software and hardware vendors have already halted future testing and compatibility with WIndows XP. Intellisoft will be forced to do the same (whether we agree or not). Intellisoft urges you to start replacing your workstations with WIndows 7, 8 or Windows 10 based workstations as soon as possible. We can assist in the moving of ManageMore to a new pc or with any minor configurations you may need for a new workstation on a network.
Going forward, Intellisoft simply cannot guarantee Windows XP compatibility and will not provide technical assistance tracking problems on pc's utilizing Windows XP… you have been warned!
Version 9 is all about refinement in the product. We have quietly been enhancing our POS system to provide you robust capabilities without requiring as much switching to the back-end accounting portion of ManageMore. We have also been tweaking the accounting system to be more intuitive and simpler to understand. We have quietly been introducing more wizard-driven design into the product to lower the learning curve when performing various processes. In addition, we have been enhancing the reporting capabilities to provide more robust information at your fingertips. Lastly, we have been building a program within a program that acts like a database inspector which notifies you when things appear wrong in your system.
Version 9 Features
General Improvements
Toolbar Improvements
Toolbar items now provide the option for small text labels to the right of a button. This will make it easier for new users to quickly identify the ManageMore symbols. This is also useful for non-english speaking businesses that want to tag the button with their own wording. The toolbar has also been expanded to support up to 25 shortcuts (previous version was only 17). Further improvements include text labels on toolbar buttons throughout most windows in the program.

Custom Form Designer
It is now possible to customize your own sales invoice, sales order, bill of lading, and purchase order form. The capabilities are endless… Add your own graphics anywhere on the form, remove irrelevant information on your forms that you don't need or add information that is important to you, your customers, or vendors. Make fields larger or smaller to better display information like lengthy product descriptions, large currency amounts, or bigger policy messages. You can even add color to your forms if supported by your printer.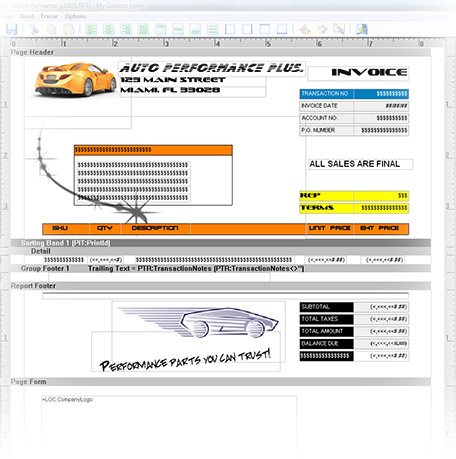 Stretchable Windows
Over 80% of ManageMore windows are now stretchable to fit whatever monitor size you work with. This means that you can now see more data on your screen without the frequent need to scroll up and down on a list. This also means that you can see more data columns without have to drill into a record view. Another added bonus is that ManageMore will remember how you positioned your window so that it automatically appears the same each time you visit that window.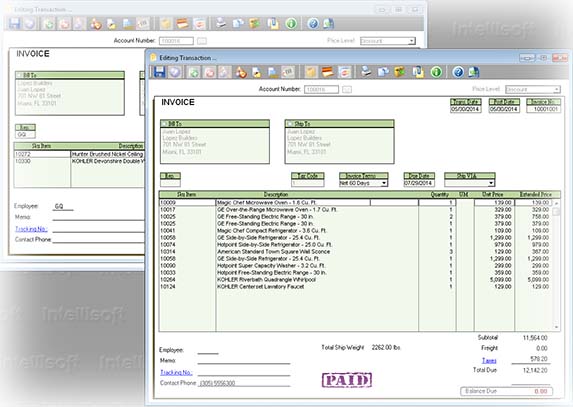 Flexible Customer Phone Number Labeling
In the past 15 years, what a customer calls their personal phone number is no longer the common POTS copper land line we have called "Home Phone" since the inception of ManageMore. In fact, as of 2013, the latest census data has 1 in 3 households without a Home Phone in favor of a Mobile Phone as the primary telephone number for contact. As a result, it is no longer useful to refer to a customer's main number as a home phone number when it could be the husband or wife's mobile phone or some other wireless device that is linked to a 10 digit phone number.
As a result, ManageMore 9.0 has changed with the times and now supports two flexible phone number fields on the customer record that can be labeled any way you like. The program will now default the first phone number on file as the "MAIN PHONE" for customer contact and the second number as an alternate number, currently defaulted to "MOBILE PHONE." The customer record still contains a separate work phone which is a fixed label representing the workplace client's phone only.
Now, If the customer's primary phone number is his/her cell phone, then place it in the Main Phone field and simply click on the "MAIN PHONE" prompt if you wish to change the phone label to something like "John's Cell", "Mary's Cell", etc. It really doesn't matter what you label the primary phone to be, so long as you acknowledge that ManageMore will now treat this phone number as the primary contact number throughout the program.
The main benefit here is that each customer can have two flexible phone numbers on their account, instead of the older ManageMore method of a fixed "Home Phone" and "Fax Phone" for the entire customer database. Customer "A" can now have a "Mobile Phone" / "Home Phone", Customer "B" can have "John's Cell" / "Fax Phone", and Customer "C" could choose to have "Main Phone" / "Dad's Cell". It doesn't matter how you label each customer's account with the phone fields… you can now easily label each customer's phone number fields with one mouse click, as needed.
Legacy customers coming from previous ManageMore versions will have the phone number fields automatically labeled as "Home Phone" and "Fax Phone" to not lose its original designated value. You can easily go back and change these tagged labels as needed. When you begin to add new customers to the database, you will notice that the default phone label will be "MAIN PHONE" and "MOBILE PHONE" unless you change it in the program setup area. We have removed "FAX PHONE" as a default label phone number since it is much less common than a customer mobile number.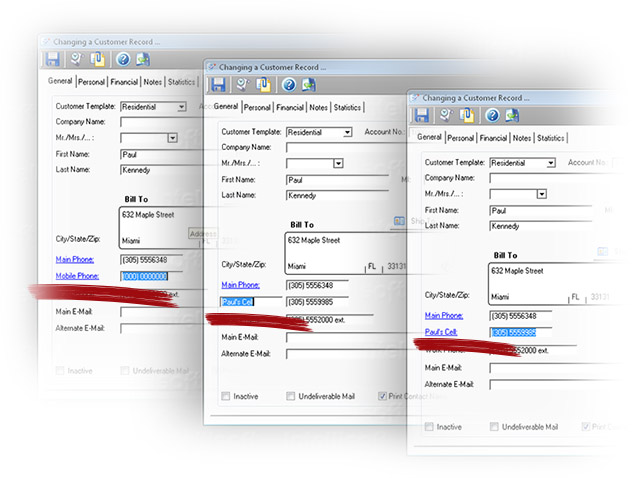 Simpler Customer / Vendor Lookup (Intellisearch)
Major improvements were made to simplify the lookup and retrieval of a customer or vendor throughout the application. On most vendor documents, the Vendor Id has been replaced with a quick lookup entry field that narrows in on the vendor by typing a few characters of the Vendor Name. With the help of our Intellisearch Engine, vendor care and customer care windows now provide an Intellisearch button which allows for finding records by any portion of a name, address, Tax Id, etc. and even a user-defined field stored on the customer or vendor record.
Also, the last 50 customers/vendors reviewed will conveniently re-appear each time you use the Intellisearch window.
Quick Lookup
ManageMore has always provided item searching options when trying to find an SKU item. That being said, our new Quick Lookup method of finding items takes searching to another level. While filling out a transaction from (i.e. Purchase Order, Purchase Receipt, Sales Invoice, etc.), An intelligent pop-up window will now appear as you begin to fill in the SKU item field. Quick lookup will perform an incremental keystroke search and begin to narrow in on the product you are typing. In many cases, just a few keystrokes are necessary to match the item you are attempting to key in. Once highlighted on the correct item, simply press <TAB> to accept the selection and the rest of the item code will fill automatically.
What if I only know the item description and not the item code to type? No problem. Just jump over to the item description column and begin typing the product/service description as it is found in your Supertrack inventory. The same familiar pop-up window will begin to narrow in on the selection you are after.
Quick Lookup will save you minutes a day in item retrieval, and that adds up to hours of productivity on a weekly basis.
One final mention here is that the Quick Lookup feature is also available in the ManageMore Point of Sale, but is deactivated by default since it is not recommended for use with barcode readers. However, even when Quick Lookup is deactivated, it can be used temporarily by typing a Space in the first character of the SKU Item or Description field.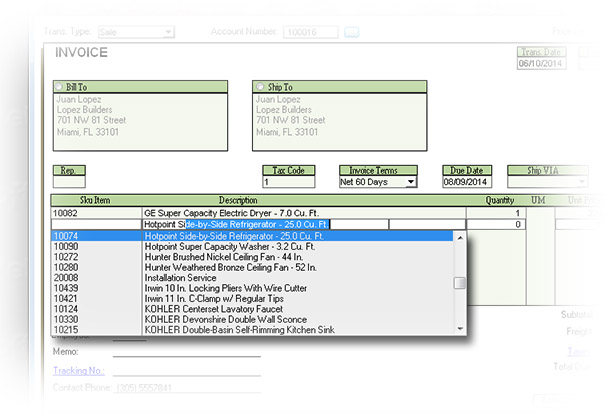 Transaction Item Detail View
A new global transaction item view was added to allow for advanced searching and custom reports on a particular item across multiple transaction types. This allows for more granular extraction of data at the item detail level.
Easier Application Security
ManageMore has undergone major changes to make the implementation and maintenance of software security as simple as possible. A new Control+Shift+S hotkey option exists on almost every window throughout the program. This hotkey allows you to view the security resources for a particular window only and make security changes right on-the-fly. An owner can walk up to any workstation and quickly lock or unlock a particular part of ManageMore without fumbling through the complex Security Administrator application.
Shorter Transaction Number Search
Throughout ManageMore, you can now use less keystrokes when searching for an invoice number, sales order, purchase order, purchase receipt, etc. Only the significant digits from the right of the number are needed for a match. In other words, if the transaction number is 10000235, then you would only have to type 235 to find that particular transaction.
Searchable Transaction Content (Intellisearch)
Using our Intellisearch engine, it is now possible to search for almost any piece of information contained on a saved transaction in ManageMore with the use of a simple-to-use window. Our Intellisearch window quickly displays all search phrased matches from the most recent to oldest transaction on file and allows simple drill-down into the invoice, sales quote, sales order, purchase receipt, purchase order, RMA, transfer receipt, etc. The possibilities are endless.
Examples of uses might include:
find transactions with a referenced P.O. number or Bill Reference from a client / vendor
find transactions with a certain note placed on the memo field
find transactions that contain a recent GL Account or recent item code
find transactions which contain a certain person's name in the Bill To / Ship To field
find transactions that are all related to a specific Shipping Method or Transaction Term
find transactions that contain a certain keyword you typed on an item note
find transactions that contain a certain value in a UDF field
Searchable Email Content
It is now possible to search for an email message from the ManageMore Organizer. You can search for matched text in the subject, sender, recipient, and/or body of past email messages.
Bulk Email Archive
Bulk email sent to customers are now recorded in the Customer Email History within the Customer Care CRM section of the program.
Canadian Credit Card Processing
Users of ManageMore based out of Canada can now process credit cards from within the program. Please contact sales for more information on how this works.
Printing Improvements
Improved Reporting
Many reports have been improved with new ways of grouping, sorting, and summarizing your data. Here is a list of reporting-related improvements:
All reports can now be previewed on screen simultaneously while interacting other windows or reports in ManageMore.
Sales Summary Report has been enhanced with new Summarizing capabilities and new grouping options like "payment tender" and "hour of day".
Inventory Item List Report has been enhanced with grouping, sorting, and location consolidation options.
Vendor Balance History Report now provides the ability to get a past A/P Balance as of a certain date.
Customer Balance History Report now provides the ability to get a past A/R Balance as of a certain date.
Customer Payment by Date Report now provides the ability to show transaction detail breakdown.
Multi-Location Form Messages and Images
You can now create different messages (i.e., Footer Policy Message, Receipt Header/Footer/Credit Card Message, Sales Quote Message) that will print based on your login location.
POS Improvements
Instant Sales Reporting
A variety of sales / payment based reports can now be printed on-the-fly without requiring a Manager login or access to the back-end accounting software. Want a quick breakdown of the payments taken at your station? No problem. Assign a POS button to an X-Out report. Want to quickly get a sales breakdown printout in a variety of ways like category, salesperson, location, etc.? No problem. Assign a POS button to a Sales Summary report. Your staff can now quickly get the numbers they need throughout the day to let them know how they are performing. These specialized reports are also designed to print on 3″ receipt paper as well as full page printers.
New Receipt Printer Report Previewer
A new viewer was developed to see the receipt layout report on screen without the need to print the report.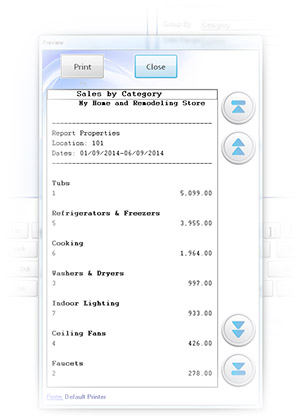 Easy Cash Drawer Payout system
It is now trivial to record monies you have taken out of the cash drawer throughout the day for special circumstances (like to pay for office supplies, company lunch, employee tips, interim bank deposits, etc.). You simply assign a POS button to be a Cash Drawer Payout option and give the reason and amount for the drawer withdrawal. Your drawer will automatically balance at the end-of-day and ManageMore will automatically post the expense correctly.
NOTE: The old cash drawer payout method in Version 8, no longer exists in the back-end accounting system. Athough it is not good business practice to use cash drawer monies as a form of bank account to pay vendors for items or comprehensive expenses, you can still do so from the POS Manager Login under Activities… Banking… Cash Drawer… New Cash Disbursement.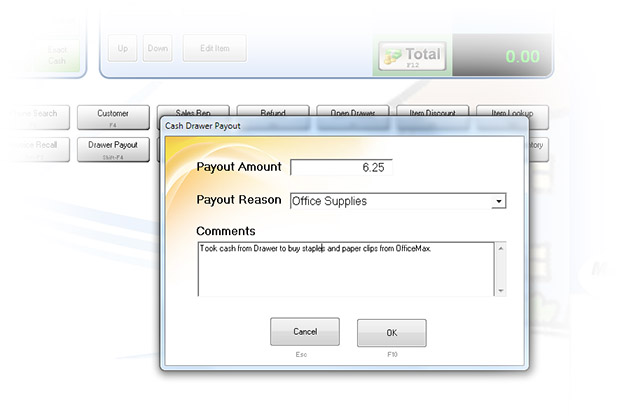 Enhanced POS Receipt Form
It is now possible to have an unlimited message length for the header, footer, credit card message, gift receipt, and reward goal message that print on the narrow receipt form.
Promotional Message on Receipts
A new Promo receipt message now exists which supersedes the footer message at a preset date period with any promotional info you wish to add to the customer sales receipt.
Account lookup by Email
Simple Customer Lookup by email can be assigned to a POS button or Touch Pad button.
Edit Item Price on any Row
The ability to edit any item row and make price changes to the entered item on the POS transaction is now possible. A setting in the POS setup controls this behavior.
Customer Incidents
A new POS function "Add Customer Incident" is now available in the POS system. This function acts identically to the back-end ManageMore Business Software incident feature.
View Customer History
A new POS function "Customer History" is now available in the POS system. This function works similarly to the back-end Customer Care feature found in the ManageMore Business Software. It is now possible to quickly view all past sales transactions for a customer in both invoice and item detail views from the POS system. You can also highlight an invoice/item from the History view and quickly retrieve the transaction for Lookup Mode or Void Mode. Other information you can quickly view include customer A/R Balance, Open Orders, RMAs, Emails, Incidents, and Recurring Charges.
Improved Split Tender on Receipts
Better support for showing multiple split tenders on receipts
Industry Related Improvements
Cellular Dealers who utilize the popular Incomm Payment Solution (formerly known as Qpay Payment Software) can now process payments directly within the ManageMore POS system. Simply make a sale for an electronic payment being requested by the customer and ManageMore will automatically pop up its own interface for accepting and posting payment to the appropriate service provider using Incomm's payment processing technology with many popular service providers. (NOTE: An additional fee may be required for use of this feature… please ask Sales dept.)
New Integration with POS Scale Devices
Items that requiring weighing will automatically pop-up the weight scale window and fill-in the appropriate weigh-in at the point of sale(ask support about specific models supported).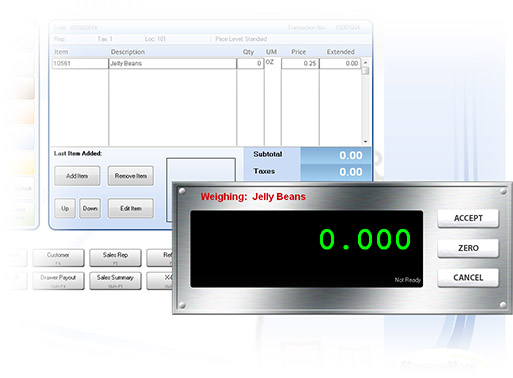 Billing Improvements
Redesigned Billing Wizard Process
The entire steps for generating customer recurring invoices and distributing statements has been revamped into a simple-to-understand wizard driven process. Simply follow the steps on the screen from generating the bills to distributing the statements. One menu option does it all!
Recap Statements
An entirely new and simpler method of printing customer statements is now available. A recap statement method now exists which allows for on-the-fly printing of statements whenever you need them (ala QuickBooks style). This type of statement is meant for businesses that do not render services on a recurring basis, but do want to send statements to remind customers of outstanding incidental charges owed. This recap technique does not require all the strict setup requirements and specific steps that ManageMore typically uses when performing recurring billing. To activate this recap statement option, please see Setup… Application… Billing…
NOTE: This feature was actually introduced in a later Version 8 build as an early beta release.
During its pre-release, we enhanced it per customer requests and included:
a. Support for sub-account grouping
b. Printing of last payment date and amount on form.
c. Selection of recap statements based on account aged balance.
Usage-Based Billing
Support for "Usage-Based" billing on usage of a particular service. This usage-based billing works in tandem with a new process window which allows you to import or manually key-in usage counts that are automatically calculated and invoiced at the time of generating statements.
Billing Reference
Support for a Billing Reference field that is used in conjunction with Usage-Based billing. The Billing Reference is unique and can be used in the Customer Care screen is a direct lookup to a client and also used with the importing of usage-based counts for billing calculation purposes.
Automatic EFT Email Notification
Upon automatic credit charging of billed clients, ManageMore will send email notifications to users with declined credit card charges, as well as email notifications to successfull charged accounts.
Billing by Invoice Only
You now have the option to distribute newly generated invoices only (instead of statements). The billing process will print any and all individual invoices that require payment by the customer. This is useful for certain users who have government accounts that don't want to pay statements.
Global Changes to Recurring Charges
A global price change and global status change feature is now possible on all recurring charge records.
Unique Statement ID
Recurring statements now generate a unique Statement ID which prints on the form. This unique identifier can be used as a reference when discussing a bill with your customer.
Accounts Receivable Improvements
Editable Sales Invoices
It is now possible to go back to a saved A/R invoice and make changes to the prices as well as most other fields on the transaction itself. There are just a few exceptions and considerations to keep in mind. First, you must turn off "Automatic" GL posting and change to a manual way of posting to the General Ledger. If you are not using the full accounting of ManageMore, then simply turning off the automatic posting will suffice. Secondly, you can only edit an invoice that has no payment posted against it. Lastly, you cannot change quantities, SKU, or remove line items (a refund is still the only way to properly deal with those issues).
Automatic Payment Surcharge
An automatic surcharge (percentage or flat rate) can now be associated to a payment method when used to pay for an invoice. This can be used to pass along fees to the customer when using a payment method that incurs costs to your business. For example, you can use this feature to automatically charge 2% whenever a customer uses an American Express card to pay for their goods and services. Another example, might be to automatically impose a $1.00 surcharge when using PayPal or some other less-desired form of payment. Having an automatic surcharge added to an invoice will either compensate for merchant processing fees or deter the use of such cards by the customer… either way you win.
Payment Receipt Improvements
On 8.5″ x 11″ payment form, the end user will now see a detail breakdown of how the payment was applied to outstanding invoices.
On Demand Packing Slip
A packing slip can be separately printed/reprinted for any invoice upon saving the transaction. Previous version only worked with specific shipping methods and required the entire invoice to be reprinted.
Accounts Payable Improvements
Easier Disbursement Data Entry
The Disbursement window now provides a "Save and New" button to allow you to stay on the disbursement screen in order to add multiple disbursements in a row. In addtion, the date of the last disbursement will not change to minimize data entry errors when back dating many payments.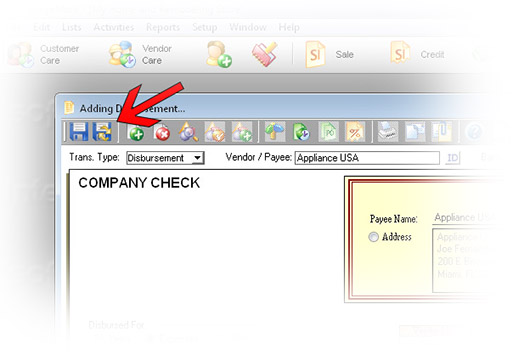 Check Printing Wizard
A new wizard-driven check printing process makes it more intuitive to use. The new process also handles check reprints and auto-numbering of checks in a simple manner.
On-the-Fly Check Printing
It is now easier than ever to print a single check quickly from the vendor disbursement process. Upon saving a disbursement, a convenient "Print Check" option is provided which allow an immediate printing of a check to your laser jet printer.
Disburse against Purchase Orders
An option is now provided to include purchase orders along with outstanding bills for vendor payment. This feature makes it simple to apply one or more deposits to a vendor purchase order which may require pre-payment for delivery of goods. It can also be used as a way of handling unapplied disbursements on a vendor account.
Manage Purchase Orders
A special screen allows you to easily view all your pending purchase orders that have not been submitted to your vendors.
Easier closing of incomplete Purchase Orders
The program will now provide you the option to close an unfiulfilled P.O. at the time of receiving your merchandise from the vendor.
Purchase Cost Adjustment
The progam now offers an option for adjusting the cost of items without affecting quantity on hand. For example, a vendor may have sent you merchandise without notifying you of a purchase increase. Without having to reverse a past purchase receipt, you can simply do a purchase cost adjustment for the items that you already received from a past bill.
Vendor Hide
You can now hide specific vendors from being accessed in the program for security reasons. A secret vendor can be secured to just the Security Administrator and one other employee.
Purchase Order Wizard
A new Purchase Order wizard is available and can significantly reduce the amount of time a purchasing manager takes in determining what items to re-order for the business. The purchase order wizard truly takes the guesswork out of reordering by allowing you to view suggested items to reorder based on your past sales trends. The order wizard provides several ways to calculate which items should be re-ordered and then automatically creates as many purchase orders as necessary in one convenient step. The process is intelligently designed so that you can run several criteria sets to build your custom PO generated list. There is even support for manual refinement of the PO generated list. Furthermore, advanced statistical analysis can be performed on your sales trends to better forecast your future purchasing needs (i.e. automatically discarding past outlier scenarios like special events, blow-out specials, and sales promotions that might otherwise skew forecasted projections). In a nutshell, this automated ordering feature may rival the smartest inventory manager you have ever relied on to replenish your inventory!
Easier Company Credit Card Entries
A simpler A/P process exists for entering company credit charges and for ultimately paying your company credit cards. You will no longer be hassled with the complex accounting method of posting against a credit card liability account. In fact, no accounting knowledge is necessary. Simply go to the menu option for making a credit card payment and tell ManageMore what credit card account you want to pay for how much.
General Ledger / Banking Related Improvements
Quicker Journal Entry Input
New journal entries automatically provide a new journal entry ID for easier data entry.
Direct Bank Register Entry
You can now enter transactions directly to the bank register. This is used for simple disbursement scenarios and/or deposits without using the associated form.
Order Entry Improvements
Multiple Sales Order Document Titles
As most ManageMore users are aware, a Sales Order is a pre-invoice type transaction. Sales orders are commonly used by many different businesses and are often referred to by different terminology depending on your business model. A sales order may be a Pro-forma Invoice, Repair Order, Work Order, or a Service Order. More importantly, your business may actually do more than one order-related activity and require different types of orders.
As of Version 9, you can set up a Stage Process which can override the traditional static Sales Order Header. Each sales order can be assigned to a stage process which identifies the order as being a "SALES ORDER" or "REPAIR ORDER" or "WHATEVER ORDER".
Sales Order Workflow Management
A Sales Order can have an associated process with incremental stages for workflow management purposes. Order Workflow is used to control the sequence of events that occur in the processing of your orders. In prior ManageMore builds, order workflow was restricted and limited to simply picking the order (i.e. Pick Ticket event) and possibly verifying the order. Moreover, the picking/verifying/labeling of an order is actually closer to a finalization step you do after all stages of an order are completed and ready for customer delivery. As a result, the new features of our order entry system have created some new terminology. ManageMore can now provide you with the ability to create and/or select a "process", "stage", and "phase" that will be used for completing an order.
As already mentioned, from this point forward we will now view our traditional picking/verifying/labeling of an order as a final "phase" of delivery. These phases are presented in the Manage Sales Order window as in previous releases. A "stage" is a user-defined incremental event that builds up to the completion of an order (e.g, Stage 1. Wood Cutting Stage; Stage 2. Wood Building Stage; Stage 3. Sanding/Painting Stage; Stage 4. Drying/Buffing Stage; Stage 5. Final Inspection Stage). A "process" groups together a set of incremental stages which represent a specific action you want to track. For example, a business may build wooden horses and wooden chairs for its clients. This business may need to manage two different processes with their own set of unique stages required for building the wooden horse versus the wooden chair. The more diverse your business, the more processes and stages you will likely create for helping you organize the flow of your orders.
The introduction of a process to an order can better organize workflow and maintain history of the activities, functions, errors and notifications that transpired on an order. Certain business models are ideal candidates for this new "process" and "stage" designed features. Businesses like Repair/Service facilities, Bicycle/Machine shops, Custom Furniture builders, Food Preparation, Trophy/Sculpture makers and dozens of other businesses which customize/build products are a perfect model for workflow management capabilities. To create your very own custom processes with stages, please see Lists… Order Entry… Sales Order Processes.
New toolbar buttons have been added to both the Sales Order transaction window and the Manage Sales Order window (formerly known as "Fill Sales Order") to facilitate this new workflow process. You can edit any stage to place important notes/instructions on current or future stage of an order. You will also notice that a stage can be assigned to a particular employee as well. This goes hand-in-hand with new toolbar settings that are now available on the Manage Sales Order window. An employee responsible for a certain stage being completed on an order can now quickly view all orders assigned to him/her to help complete/move those orders along to the next appropriate personnel.
The Manage Sales Order Window has undergone several new changes with the addition of filters that now allow you to view all orders in a particular process or stage, as well as orders being assigned to a particular employee.
Furthermore, a new checkbox was added to hide "Drop Ship" orders from the Manage Sales Order list.
eConnect Improvements
Multiple Discount Methods
Support discounts being passed in multiple ways (e.g., Coupon Code, Final Discount, etc.). Zen Cart 1.5 scripts have been updated to automatically handle this feature if used.
Real-Time Quantity on Hand Verification
Adjustments were made to Zen Cart scripts to support the option of a real-time on-hand quantity verification check at the time of order checkout. Please Note… providing real-time Commerce stock status is not typically advised due to inherent inaccuracies that cannot be overcome. This new option mentioned is about as close as you can come to addressing the need to ensure that merchandise is in stock prior to charging a customer credit card.
Improved Performance
Better Inventory Caching for improved performance when importing large inventory to your shopping cart.
Audit Logging
Audit Log capabilities to review activities transmitted through eConnect.
Inventory Improvements
Variable Cost Association
Intangible supertrack items can now be associated to a variable cost for improving profit calculations of sales invoices for some business models.
Improved Discounting Capabilities
There is now an easier way to apply a discount rule for a redemption (discount) item which affects all inventory items. Prior versions, required updating of the item discount table each time a new item was added to your inventory. It is also possible that the discount will only apply if the overall sale subtotal minimum is met. This advanced rule allows a company to do clever marketing like printing $20 Off Coupons which contain a small disclaimer requiring the final sale to be $50 or more.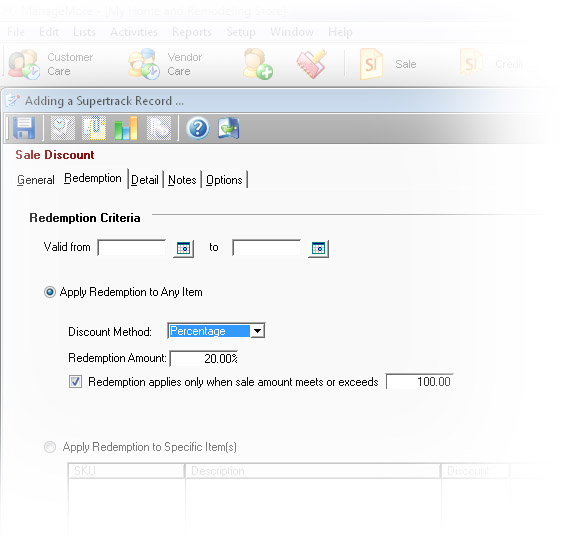 Tax Free Qualified Items
Many localities now offer special dates during the year where certain items can be sold tax exempt for a short period of time. Our new Tax Free Qualified setting makes it easy to to tag any item in advanced that will be tax free for a given date period. An accompanying Tax Free Qualification Wizard also exists for quickly tagging multiple items that may be tax free for a given date period (i.e., Back To School Events, Early Holiday occasions, etc.). Everything can be set up ahead of time so that you don't have to worry about any tax issues during these special government exemption periods.
Inventory Adjustment Reversal
You can now reverse an Inventory Adjustment transaction.
Inventory Import Wizard
A new wizard-driven process makes it easier than ever to import data into ManageMore.
Global Price Change Wizard
A new wizard-driven process makes it easier to understand and process global price changes to the Supertrack Inventory.
Matrix Inventory ( Professional/Complete Edition )
After more than two years of R&D and testing with a variety of retail operations, ManageMore now includes a state-of-the-art integrated Matrix Inventory capability. What is Matrix Inventory? For more about how to use matrix items, Click Here.
Improved Intellisearch
The intellisearch engine used for finding items in the Supertrack inventory has been completely redesigned. It is now more intuitive and typically 2-3x faster at finding any key word in the entire inventory system. All inventory descriptions are now fully indexed and searchable. Furthermore, you can type just a few letters of the begining of each key word you are looking for to get good results (e.g. Ken Ref can be searched and results like Kenmore Refridgerator will be displayed). Additional settings exist in the Setup area that allow for you to include inactive items in the search list and exclude common key words from the search engine.
Another powerful new capability is the addition of custom key words. A custom key word can added to any inventory item to allow for matched searches with terms that are not part of the product description, but are still relevant in an item search. For example, the product may be called "F14 Super Tomcat Model Plane". Additional custom key words can be added like "toy", "airplane", "fighter", "jet", "military", etc. to make the search engine find this product using any or all those key words plus the words that are part of the item description itself.
Serialized Inventory Improvements
Serialized Validation rules
A new serial number validation rule is now available that ensures that an item's serial number matches for the item being recieved into the program. This will help minimize data entry errors when many serialized items are being received on one receipt.
Easier Serial Number Ranging
Easier entry of serial number ranges are also available, by simply scanning in the first and last serial number.
Serialized Kit Components
A Kit item can now consist of parts that are serialized items.
Quick Reprint of Serialized Labels
A button was added within the inventory record to allow you to tag a specific serialized item to be sent to the List and Label Manager for easy reprint of a serialized item.