Database Exporting Solutions
Totals, Differences, Averages, High's, Low's, Least, Most… There comes a point in every business where numbers mean everything to the success of your organization. You want to be able to sort data in any manner, total data in any fashion, or simply analyze figures in different ways. File Export Pro™ is the perfect data gathering solution for your business.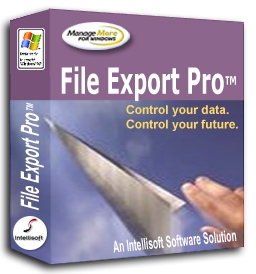 With File Export Pro, one will be able to extract data from ManageMore in universally accepted formats which can be read by all popular spreadsheet programs, word processors, database applications, report generators, and more. You can export your data natively to a Microsoft Excel spreadsheet, ASCII CSV, ASCII Tab, HTML, and even DBase format.
Go ahead… Take control of your database. Create your own reports, import customer and billing information into other programs, mail merge information into word processors, produce your own visual charts, integrate information for use with web sites, and much more.
No messy, complicated or expensive reporting tools to deal with. Many other business software solutions try to sell you on the concept of products like Crystal Reports® for creating custom reports. Although Crystal Reports is a superb report generator, many times it is a bit overkill for what you are after. There is also a considerable learning curve for using such a product and is almost always a separate software purchase. Advanced users should consider ManageMore's ODBC Driver Kit™ for products like Crystal and more.
ManageMore's File Export Pro is meant for the novice to intermediate user who requires subtle report changes or additional data analysis from an already existing report in ManageMore or through custom queries. There is no need to understand complex file relationships to obtain your data set. One only needs to pick from one of the many ManageMore reports that contains data similar to what one is after. Alternatively, one can query the database based on almost any condition and export only those fields that are desired.
Once your data is exported, you will be able to accomplish your final goals through the use of more common and familiar products like Microsoft Excel or Word.
What are you waiting for? Let File Export Pro™ make it easier to analyze your business today!
File Export Pro Features
Database information can be exported in ASCII csv, ASCII tab, Excel, Dbase and HTML format
Designed for novice to intermediate level computer users
No need to learn report generator applications to access data
Automatically launch file associated application for immediately viewing data within popular applications like Microsoft Excel or store file output directly on your network, FTP site, etc.
Create custom queries which can be used to select only those records of interest for file export
Optionally select a pre-existing MS Excel template spreadsheet which can be used to place the export data. This is especially handy when one wants to perform special formulas and calculations periodically against a set of exported information (i.e., special commission calculations, forecasting analysis, sales analysis, etc.)
Customer billing can be exported for printing by third party mailing companies