Document Management Software
ManageMore's Intellifile™ software solution provides organizations with an easy to use and extremely affordable document management software system designed to catalog, store and retrieve office documents, spreadsheets, digital files and e-mail directly from your desktop computer.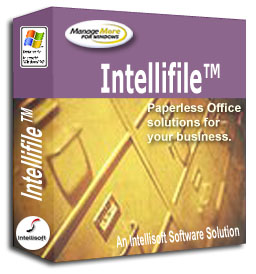 Document Management Software Review
Specific benefits include:
Streamlining paper handling and time-consuming, error-prone manual processes
Speeding access to information with online search, retrieval and viewing
Broadening access to information, turning physical records (paper, microfilm or microfiche) into sharable electronic resources
Improving document security and control over document access and modification
Ensuring compliance with industry regulations through improved records management
Reducing lost documents
Reducing paper storage requirements.
The best part is that Intellifile™ uniquely integrates itself into ManageMore's powerful business accounting solution which makes it painless to find the documents you are after. Documents stored in ManageMore are uniquely catalogued to the specific customer, vendor, employee, prospect, invoice, etc. so that you can easily find it without complex text searching techniques.
Easy To Use
Simply click the attach button the document to any record in ManageMore, such as a customer or transaction. You can then easily select a document from your computer, or immediately scan a file from an attached scanner. In addition, you can record a voice document, or make a video capture from an attached camera. The document is then easily accessible from the record to which it is attached. Need the contract for John Doe? It's attached to John Doe's record.
Secure Storage
Document security is a must. All virtual document cabinets can be secured by individual passwords, as well as assigned access to certain individuals. Only those with proper access can view, update, or delete documents. Scanned documents can be subject to additonal password protection at the PDF file level when created.
ManageMore Learning Center
This article describes the ins and outs of document management. We go over the basics of document management, and the benefits of a proper system. We also explore some myths about document management. Finally, we illustrate the ManageMore approach, and why it is...
read more